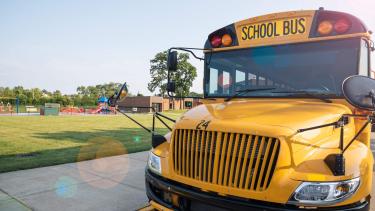 Student Transportation
School Bus Information
At the Abbotsford School District, every effort is made to ensure that students are provided with safe, efficient and reliable transportation. Transportation is available to students who meet the eligibility requirements listed in AP 307 - Transportation of Students To and From School.
---
Registration
Please understand registering your student does not reserve a seat for your student on the bus; rather provides the transportation department information to determine the service level requirements. Students who qualify for busing for the school year 2023-24 will receive their busing information via email about a week before school starts.  Students who do not qualify for busing will be notified immediately via email.
Families will be able to pay transportation fees online beginning at the end of August. If you have not already done so, you may register for online payments through your school website or at abbotsford.schoolcashonline.com. All discussions regarding busing fees should be directed to the Abbotsford School District's Finance Department at 604-859-4891 or by email finance@abbyschools.ca.
School Bus Registration is NOW OPEN for the September 2023-2024 school year.
Please allow 7 - 10 business days for our office to process your bus request. Once our office has processed your request, you will receive an email from our department with your student's bus information.
Still have Questions? Please visit our Frequently Asked Questions page to learn more.
Riding the School Bus
Riding the school bus offers students a convenient and reliable means of transportation to and from school, fostering a sense of community and ensuring a safe journey. It is important to note that while aboard the bus, students are expected to adhere to the student code of conduct and behave as if they were still in the classroom. By doing so, students can contribute to a positive experience for themselves and their peers, creating a harmonious atmosphere during their daily commute.
All of our drivers undergo a rigorous training program, including both classroom and practical Driver Training. Drivers are taught to deal with a variety of student situations and driving scenarios. They are trained to show the same respect to their students as they expect themselves.
By adhering to the following rules, students will ensure maximum safety for themselves, their bus driver, and other drivers. 
DO's:
Sit in the seat assigned to you during the entire trip unless authorized by the driver to change seats
Remain seated at all times -- facing forward with legs and feet clear of the aisle area and with feet on the floor
Keep head and arms inside the bus when the windows are open
Be absolutely quiet when approaching and while stopped at a railway crossing
Provide the driver with your correct name when asked
Do Not: 
Push or shove enroute to your seat
Throw paper or any other projectile
Mark, cut and/or deface seats
Bring skis and poles on the bus
All Students Must Not:
Push, shove, or hit one another
Smoke or Vape
Light lighters, matches, or firecrackers
Swear
Fight
Be excessively loud
Refuse to share a seat
Reminder: Studies show the safest mode of transportation to school for students is on board a School Bus.
The school bus is an extension of the classroom. Student behaviour is expected to be consistent with acceptable behaviour in class, as serious safety concerns can result from poor behaviour. According to school bus rules, the driver is responsible for maintaining order on the bus. SAFETY, ORDER and RIGHTS are posted inside each school bus. Students who misbehave on a bus may first receive a verbal warning. If this warning is not responded to appropriately, the principal shall make a report, and parents will be notified.
A suspension of riding privileges may occur, if:
A student's inappropriate behaviour continues; and/or
A flagrant act of misbehaviour occurs, such as vandalism, direct disobedience, foul language, etc.
If riding privileges are suspended, the parents and the school will be immediately informed. Students will not be discharged from the bus on route but may be returned to the school by the driver.
Types of Infractions
Refusing to obey the instructions of the driver
Extending part of the body out of the window
Failing to remain seated while the vehicle is in motion
Being disrespectful of others
Fighting
Smoking
Causing willful damage
Using obscene language
Throwing objects
Any conduct that would be permitted in a classroom
Bus stops are located in a safe place and are designed to accommodate as many students as possible. Students may be requested to walk up to 1.6 km to a bus stop. Stops are located either approximately 50 m prior to or after an intersection to ensure that the bus does not impede traffic at the intersection. School District buses do not travel on unmaintained or not exit streets. Routes and stops are structured to stay on main roadways in our district. Students are requested to be at their bus stop 5 minutes prior to their departure time.
Weather conditions and mechanical breakdowns can occur and cause delays. A route may take 50% longer to complete in adverse weather conditions. If a bus does not arrive in fifteen minutes, you will need to make alternate arrangements for your child. Please equip your student with a family safety plan if the bus has a lengthy delay.
During the late fall and winter months, it is necessary to temporarily close a school or schools when weather conditions might endanger the safety of students. The Superintendent of Schools has authority on behalf of the Board, to temporarily close a school or schools. Several factors go into this decision and are highlighted on the school district's website under "Winter Weather Procedures".
If families believe their local conditions are unsafe, they may keep their child at home or arrange for their early dismissal. To alert parents, the school district has various means of communicating a decision to close a school or schools:
District Website - www.abbyschools.ca
Social Accounts - @AbbotsfordSD
SchoolMessenger Email / Phone Calls
Or call the transportation office, (604) 855-5278.
Students are reminded to listen closely when the driver explains and instructs Safe Bus Evacuations drills annually.
Abbotsford School District takes great interest in kindergarten students' first days of school.  Once the regular school schedule is followed, Kindergarten students will be transported on the bus on their scheduled bus runs. The dispatch office will be instructing drivers on the first days of school for the kindergarten students, ensuring the drivers know that they have kindergarten students on their buses.
During the student's first year of school, busing will follow the process below for kindergarten students.
Morning (Pick-up) – An adult or older sibling must bring students to the bus.
Afternoon (Drop-off) – Students will take the bus home and be dropped off at a designated bus stop. Those students who do not have older siblings to walk home with must be met at the school bus door by a parent or designated guardian.
Should no one appear at the bus stop within a reasonable time (2-3 minutes), the driver will keep the student on board and continue with the bus route.  At this point, the student will not be dropped off but will be returned to the school.