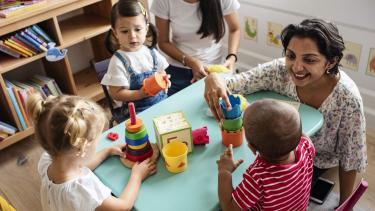 StrongStart
Free, Drop-in Early Learning programs in Abbotsford
StrongStart is a free, drop-in early learning program for children (ages 0-5 years) accompanied by a parent or caregiver. StrongStart offers preschool aged children, quality early learning experiences and offer play opportunities, while demonstrating to parents and caregivers how they can enhance their child's development. The emphasis of the program is on learning through play, language and positive social interactions.
There are 13 StrongStart centres in the Abbotsford School District:
Alexander Elementary, 2250 Lobban Rd.
Blue Jay Elementary, 30995 Southern Dr.
Clearbrook Elementary, 3614 Clearbrook Rd. 
Dormick Park Elementary, 32161 Dormick Ave. 
Dr. T.A. Swift Elementary, 34800 Mierau Ave. 
Godson Elementary, 33130 Bevan Rd. 
Harry Sayers Elementary, 31321 Blueridge Dr. 
Jackson Elementary, 33165 King Rd.
John Maclure Elementary/Community school, 2990 Oriole Cres. 
Margaret Stenersen Elementary, 3060 Old Clayburn Rd. 
Sweeney Neighbourhood Centre, 33355 Bevan Ave (behind Abby. Senior). 
Ten-Broeck Elementary, 2580 Stanley St. 
Terry Fox Elementary, 3071 Babich St.