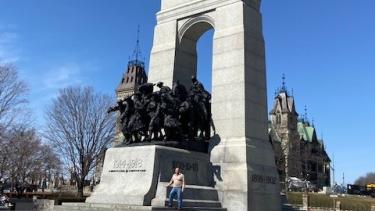 In Remembrance
November 8, 2022
Many of you will know that I am a student of the World Wars, and that over the years I have written about the profound respect I have for our veterans who have put their lives on the line for the cause of freedom. As a teacher I carefully curated stories for my students about pivotal battles and Canadian heroes who helped to pave the way for the freedoms we sometimes take for granted. It was always a treat to welcome veterans into my classroom, and students always came away with a greater appreciation for the courageous lives of our service men and women, as well as the horrors of war.
As a student of Remembrance, I have endeavoured to learn a little more each year.  I have visited Juno Beach, where Canadians stormed the beaches at Normandy, Givenchy, where the World War I Vimy Ridge Memorial is located, and have walked the rows of graves at Beny Sur Mer, where hundreds of Canadian WW II service personnel are buried. More recently I visited the Canadian War Museum in Ottawa, where I developed a keener interest in an aspect of the Remembrance that I have unfortunately neglected in my learning journey: the sacrifice and service of Black Indigenous and People of Colour during the wars. It strikes me that few of us know about the service of these soldiers over the decades.  One might wonder why this is of particular importance, but you need only remember the times in which these men and women lived to develop an appreciation for their courage. These soldiers were willing to answer the call to service even though they were treated unjustly by the very country they sought to defend. I leave you here with three short vignettes in memory of these brave soldiers.
South Asian Soldiers
Few of us know that Sikh soldiers for the British Empire were among the first Indians ever to visit Canada. Of the Sikh immigrants who began to arrive in British Columbia from 1904 onward, most were former soldiers. Archives show that 10 Indo-Canadian men, most of whom were Sikhs, enlisted and fought in the Canadian Army during WWI. This of course was in addition to the thousands of Indian soldiers who fought for the British Army during both conflicts. It is estimated that over 250,000 Sikh soldiers fought in both World Wars for the Allied Forces at a time when they were being oppressed by their colonial powers. Nonetheless, when called upon they fought bravely and played pivotal roles in numerous battles. One local source that helps to paint a more compelling picture of the sacrifice and bravery of South Asian Soldiers is Honour, Duty and Izzat by Steven Purewal, which is available in our school libraries.
Black Soldiers
Some of us will remember that this past summer the Prime Minister issued a formal apology to the descendants and relatives of the No. 2 Construction Battalion, the military unit in Canada made up of mostly Black personnel. Despite their service in France and England, members of this battalion were forced to live in segregated camps, and were not provided proper medical care, equipment or rations. In addition to the men of the Black Battalion, more than 700 Black Canadians also managed to join other units. They would offer distinguished service that earned some of their medals for bravery at places like Ypres, Vimy Ridge, Hill 70 and Passchendaele but were not afforded the benefits that white soldiers were given when the war was over. The Second World War saw considerable growth in how Black Canadians served in the military. Black men and women continued to serve with distinction when WW II erupted, despite facing considerable discrimination.
Indigenous Soldiers
Little is known about the more than 8,00O Indigenous persons who served in the Canadian Armed Forces during WWII. Most of these soldiers served in the army. Both the Royal Canadian Air Force and the Royal Canadian Navy required volunteers be "of pure European descent and of the white race," until 1943. Inadequate healthcare and schooling for Indigenous populations in the early 20th century meant few could meet strict medical and demanding education standards to enlist in the RCAF or RCN. Many of us know that Indigenous people did not have the status of citizens (i.e., did not have the right to vote until 1960), and while they protested that it was unjust to compel people without citizenship rights to fight to defend those same rights, they nonetheless fought bravely for Canada when called upon.
I offer these small vignettes as an invitation for all of us to learn more about those who have made tremendous sacrifices for our freedom. These soldiers fought battles both overseas and at home, and are deserving of Remembrance. By remembering their service and their sacrifice, we recognize the tradition of freedom these men and women fought to preserve. They believed that their actions in the present would make a significant difference for the future.
Finally, I learned about how to help us learn more about these and other service men and women, very brave people whose sacrifices help us to live the very privileged lives we now enjoy: When you purchase a poppy and scan it at www.poppystories.ca you will gain access to some fascinating stories about these Canadian Heroes. Lest We Forget